Pump, Hydrostatic Test, 15,000 psi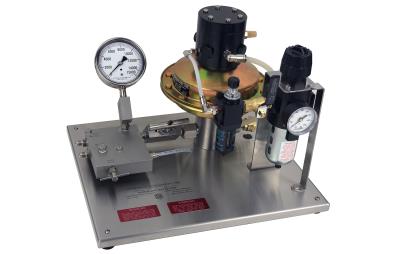 Hydrostatic Test Pump, 15,000 psi maximum.
Part Number: 9901-150L
National Stock Number (NSN): 2930-01-678-0742
Dimensions: 16" X 14" X 13.75" High;
Net Weight: 36 lbs (16 kg)
Email For More Info
Hydrostatic test pump may be utilized as a standalone unit or combined with any of our reservoirs, safety test chambers, test fittings or other optional equipment to achieve a complete hydrostatic test system. with integral safety test chamber.
For use with water or petroleum based oils.
Loop style manifold with 7/16-20 straight thread boss (MS33649-04) high pressure outlet and return ports.
1 each, ¼ NPT accessory port.
Maximum Fluid Pressure 15,000 psi.
Inlet power supply (air) 0-105 psi.
Factory set air pressure relief valve. Prevents over-pressurization of tester.
Output shutoff valve used to isolate unit under test and high pressure gauge from test system.
ASME B40.1 grade 1A hydraulic pressure gauge, 1% full scale accuracy ( 1/4% digital gauge option available).
Bleed Valve assist in bleeding air from system and releases pressure prior to disconnecting unit under test.
All stainless steel wetted components provide strength, durability, corrosion resistance.
Precision regulator allows precise control over a broad range hydrostatic pressures.
Dimensions: 16" X 14" X 13.75" High;
Net Weight: 36 lbs (16 kg)