Hydrostatic Test System with integral safety chamber, 24" x 24" x 15"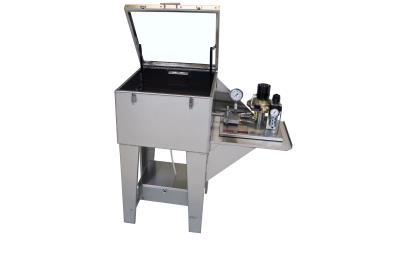 The Hydraulic Hose/Component Test System combines a nominal 24" x 24" x 15" test chamber with one of our hydrostatic testers as an integral unit. Test Systems are fully customizable with regards to components, features and sizes. Standard sizes available for quick delivery.
Part Number: 9901HT-XXX-24x24x15
Dimensions: 45" x 24" x 45" High
Net Weight: 182 lbs (83 kg)
Request Quote
The Hydraulic Hose/Component Hydrostatic Test System combines a test chamber with one of our hydrostatic testers as an integral unit. All hose testing or component test connections are inside the hydrostatic test chamber and controls outside to protect personnel during testing. The standard hydrostatic test system or hose proof test stand incorporates a loop arrangement whereby the test fluid is returned to the reservoir, enabling the bleeding of air from the system and the recycling of test fluid. A non loop arrangement may be preferred under some circumstances at no extra cost. The hydrostatic test chambers are manufactured using 12 gauge stainless steel, providing increased strength over comparable gauge mild steel and avoiding the inevitable chipping, cracking and rust common in painted or powder coated equipment. In addition to hose assemblies, the unit can be used for the hydrostatic testing of virtually anything that requires high pressure proof testing or burst testing. Heavier gauge stainless available if required. As with all of our equipment, the units can be customized to meet your specific requirements.
Test Chamber: 12 gauge brushed stainless, nominal 24" x 24" x 15" deep chamber,venting to rear of chamber
1/2" NPT drain
Polycarbonate shield: 1/2" thick
Stainless "double lock" heavy duty latches handle and gas springs
Stainless work table
Max pressure ranges: 1000, 2300, 3600, 6300, 10,000 and 15,000 psi
Four inch dial gauge, 1% accuracy (optional - 1/4% digital gauge)
Output Shutoff Valve: Used to isolate test item and gauge from test system
Stainless manifold with bleed valve and accessory port
Inlet Air Requirements: max 8 cfm at 100 psi
Reservoir Capacity: 5.5, 10 or 15 gallons
Fluid: Water, MIL-H-5606, MIL-H-83282 or other petroleum based fluids.
Variety of optional hose adapters available
Dimensions: 45" x 24" x 45" High
Net Weight: 182 lbs (83 kg)